Baby's Day Out / Swayels te Sqaqele Li Kwe Satl'q
"Qwemches te sqaqele" ... and so begins the wonderful journey of this children's board book by Many Voices, One Mind. Swayels te Sqaqele Li Kwe Satl'q is an example of how much fun learning a language and a culture can be.
Our Network believes that using two word sentences to encourage language can be fun for families and children alike. All families will treasure this fantastic approach to discovering the Halq'emeylem language, Nlaka'Pamux language and Sto:lo culture.
About The Author
Tracey Bonshor is a graduate of the Early Childhood Education [ECE] Diploma Program at the University of the Fraser Valley. She uses her ECE at the Parents and Tots Program at Seabird Island and Shxw'owhamel First Nations. As well, her art is featured in eleven children's picture books. Tracey lives with her cat, Jack, in Harrison Hot Springs, British Colombia.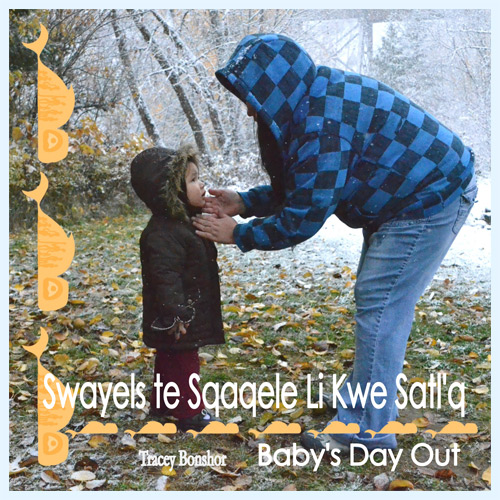 Swayels te Sqaqele Li Kwe Satl'q (Baby's Day Out)
Read Alouds
Please visit our YouTube MVOM Channel or click on the videos below to hear this book being read in local Indigenous languages.